June 6, 2012
A Priceless Gift Called Gratitude
Parents know what they have to teach children. They teach them manners, and how to use the potty. They teach them how to eat at the table, how to get dressed in the morning, and eventually, how to tie their own shoes. Sadly, one of the forgotten teachings of parenthood is teaching children how to be grateful. When is the last time you taught your child to be grateful. As a parent, it is immensely important for children, even very young ones – to realize that a grateful heart can lead to great things in life.
Gratitude doesn't come naturally to our children.  It is learned. So, as parents, "Teaching our Children Gratitude" should be at the top of our parental-to-do-list.
Happiness is a skill that parents can teach their children and the relationship between gratitude
and happiness is really strong. People who spend more time doing things that express their gratitude tend to be considerably happier than people who don't.Children who express gratitude are kinder, more appreciative, more empathetic, happier and more enthusiastic. Grateful children understand that other people have needs and they look outside themselves. They are more polite, usually better behaved and generally more pleasant to be around.
LIVE WITH AN ATTITUDE OF GRATITUDE
Imagine for a moment one of those nights when you just can't fall asleep and you have to get up early the next morning for a very important meeting of which you are the keynote speaker. Your alarm clock goes off early in the morning waking you from what little sleep you had. You stumble out of bed, have a quick shower, grab a coffee and some toast, and off you go to fight the traffic on the way to work.
Does that sound like the start of a terrible day? Most would answer 'yes'. Few people however, would answer, 'no'. These are the people, who are in my opinion blessed with a gift. A gift that determines how they view their life. These people live with 'an attitude of gratitude'. For them, the situation described could be worse. Much worse. For example, think of the man who doesn't have a bed, let alone a roof to over his head. When he is awoken from what little sleep he is able to get, it is by the rain falling on his cold body. He too stumbles to his feet and begins his journey to work in his bare feet. His work is in the field of survival. He searches though garbage cans for scraps of half-rotten food to eat and odd bits of clothes to keep him warm.
The purpose of this example is to illustrate that we all have so much to be grateful for. Even in times when it seems that nothing could be worse, there is always a reason to be grateful. And when you feel a sense of gratitude, you feel a sense of happiness and content. My challenge to you today is to learn to look for the good in every situation and live with 'an attitude of gratitude'.
I assure you, if you were the fellow searching for food in garbage cans you too could find things to be grateful for. You just have to look hard enough and 'open your eyes' to what is around you. You have to focus on what's good in your life, not what's bad.
"I once was distraught because I had no shoes, until I met a man who had no feet." – Unknown
Life works in mysterious ways. Time and time again there have been stories of people who are in a dire strait yet they are found helping others who are experiencing greater turmoil. This is because once you have helped someone in greater need than yourself, you always feel better. You feel better because you have helped another human being, and this forces you to change your mindset from focusing on your problems to focusing on their solutions.
Always focus on the solution, not the problem and live with an attitude of gratitude! Mother Teresa was a primary example of this phenomenon. Her entire life revolved around helping others in need. As a result she experienced a great deal of love and self-satisfaction in her life.
I challenge you now to take a moment to think of five things in your life that you are grateful for today. For example, your friends, your family, your job, your sense of smell, touch, sight, and sound. The list can go on and on. Imagine what your life would be like without these things. Write them down on a piece of paper and really think about the things you are grateful for. You will be amazed at how great you will feel!
Gratitude is such a brilliant gift that has been bestowed upon us if we choose it. The sophistication of this gift is simple. It is a choice. Be thankful for what you have, who you are and who you can be. It's all about perception. It doesn't matter what societal status you come from, what your wallet has in it or how you were culturally raised. Be thankful for what you have and feel right now in this exact moment in time. Hard times and good times. These are all opportunities to acknowledge gratitude. To give a shout out to gratitude. As we teach our children to witness this invisible mind thought, the concept emerges within them just as easy as they learn how to brush their teeth, their ABC's or how to tie their shoes. These are life skills they will use through-out their whole life.  Gratitude can be a wholesome part of your healthy intentional conscious parenting routine.
Recognizing The Good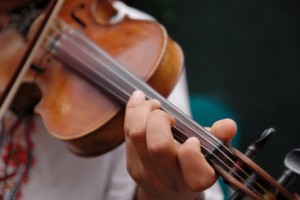 There is a story — maybe an urban legend, but full of truth nonetheless — concerning the famous violinist Itzhak Perlman.
As a child he had been stricken with polio and getting on stage is no small feat for him. He wears braces on both
legs and uses crutches. One evening, Perlman was in New York to give a concert. Perlman crossed the stage slowly until he reached the chair,  seated himself, and signaled to the conductor to begin.
No sooner had he finished the first few bars then one of the strings on his violin snapped, echoing loudly through the theatre like a gunshot. Perlman was at the beginning of the piece and it would have been reasonable to bring the concert to a halt while he replaced the string to begin again. But that's not what he did. He waited a moment and signaled the conductor to pick up just where they had left off.
Perlman had only three strings on which to play his soloist part. He was able to find some of the missing notes on adjoining strings, but where that wasn't possible, he had to spontaneously reorganize the music so that it all still held together.
He played with passion and artistry, instinctively rearranging the symphony right through to the end. When he finally rested his bow, the audience sat for a moment in stunned silence. Then, rising to their feet, they gave a standing ovation. Each person in the audience knew they had been witness to an extraordinary display of human skill and ingenuity.
Perlman raised his bow to signal for quiet. "You know," he said, "sometimes it is the artist's task to find out how much beautiful music you can still make with what you have left."
We have to wonder, was he speaking of his violin strings or his crippled body?
Circumstances can throw us off our game or they can strengthen our determination and desire to create a positive outcome. The Hebrew term for gratitude is hikarat hatov, which means, literally, "recognizing the good." Practicing gratitude means recognizing the good that is already in our lives. With a daily practice of giving thanks, our perspective shifts.  Gratitude is a powerful perspective that energizes positive action, and therefore creates a more fulfilling life.
If we thought about it, we would find that we don't give or hear expressions of gratitude as often as we should. If you feel this way you are certainly not alone. Remembering to Express Gratitude can help us and our family members. Gratitude is more than an inner feeling. When good things are happening around us, when we're with those we love and we're grateful and we're expressing it, the feeling of love and tenderness grows.  Gratitude can bring a calming feeling.
 
(In April of 2005, a young mom was confronted with a diaper rash that just wouldn't quit. The rash needed some fresh air to heal, but she was also concerned about keeping her daughter warm. In a moment of inspiration, she snipped the feet off of a pair of socks and fitted her daughter from hip to ankle with a cool set of leg warmers. These leg warmers not only kept her daughter warm, but also protected her from the elements, made diaper changing and potty training easier, and protected her soft knees while crawling. With some fun designs and some grassroots marketing support, the functional and fashionable leg warmers that began as a solution to keep little legs warm quickly became much more.)
So what is gratitude, really? It includes saying "thank you" and being polite. But it is more than that. Expressing Gratitude is the beginning of courtesy, generosity, concern and appreciation for family members and others.
A deeply felt and fully expressed gratitude is an effective way to positively influence attitudes and behavior, our own and that of others. Learning to feel and express gratitude can have a significant effect on the happiness and success of every family member.
"A frustrated mother once complained to her neighbor that no one in her family seemed to appreciate what she did. They never commented on how much effort she spent cleaning the house, decorating their home for holidays, and keeping their clothes clean and pressed. They never thanked her for the good meals she prepared or for taking them to school or to work. … She was annoyed that they took her for granted.
"Her neighbor replied, 'Marianne, you have a clean and attractively kept house. Your children go to school and to their meetings clean and neat. You are an excellent cook, and I can't think of anyone who is more faithful than you are about doing your Church callings.
" 'I suspect that your husband and children recognize your efforts as being praiseworthy. It is possible that other members of your family feel the same discouragement as you do because it just isn't the practice at your home to express appreciation' "
In order to develop and teach gratitude to those in our families we must first awaken within ourselves the attitude of being appreciative. "It is as important for our families to learn to express gratitude to one another as it is to receive it from one another. If we don't teach others to express their appreciation by our example and by our instruction, they may not learn this important courtesy. … If we want others to continue doing what they are doing, the best thing we can do is to let them know how much we appreciate it"
It is one thing to teach your child how to say thank you. It is something entirely different to teach them how to feel it.
So how do we help our families learn Gratitude?  Let me share these 10 ways to help make that happen……….
1.
Keep a Gratitude Journal. Establish a daily practice in which you remind yourself of the gifts, grace, benefits, and good things you enjoy. Setting aside time on a daily basis to recall moments of gratitude associated with ordinary events, your personal attributes, or valued people in your life gives you the potential to interweave a sustainable life theme of gratefulness.
2. Remember the Bad. To be grateful in your current state, it is helpful to remember the hard times that you once experienced. When you remember how difficult life used to be and how far you have come, you set up an explicit contrast in your mind, and this contrast is fertile ground for gratefulness.
3. Ask Yourself Three Questions. Utilize the meditation technique known as Naikan, which involves reflecting on three questions: "What have I received from __?", "What have I given to __?", and "What troubles and difficulty have
4. Learn Prayers of Gratitude. In many spiritual traditions, prayers of gratitude are considered to be the most powerful form of prayer, because through these prayers people recognize the ultimate source of all they are and all they will ever be.I caused?"
5. Come to Your Senses. Through our senses—the ability to touch, see, smell, taste, and hear—we gain an appreciation of what it means to be human and of what an incredible miracle it is to be alive. Seen through the lens of gratitude, the human body is not only a miraculous construction, but also a gift.
6. Use Visual Reminders. Because the two primary obstacles to gratefulness are forgetfulness and a lack of
mindful awareness, visual reminders can serve as cues to trigger thoughts of gratitude. Often times, the best visual reminders are other people.
7. Make a Vow to Practice Gratitude. Research shows that making an oath to perform a behavior increases the likelihood that the action will be executed. Therefore, write your own gratitude vow, which could be as simple as "I vow to count my blessings each day," and post it somewhere where you will be reminded of it every day.
8. Watch your Language. Grateful people have a particular linguistic style that uses the language of gifts, givers, blessings, blessed, fortune, fortunate, and abundance. In gratitude, you should not focus on how inherently good you are, but rather on the inherently good things that others have done on your behalf.
9. Go Through the Motions. If you go through grateful motions, the emotion of gratitude should be triggered. Grateful motions include smiling, saying thank you, and writing letters of gratitude.
10. Think Outside the Box. If you want to make the most out of opportunities to flex your gratitude muscles, you must creatively look for new situations and circumstances in which to feel grateful.
Robert A. Emmons, Ph.D., (who wrote these steps to Gratitude) is the world's leading scientific expert on gratitude. He is a professor of psychology at the University of California, Davis, and the founding editor-in-chief of The Journal of Positive Psychology.
Heart of Gratitude…
A blind boy sat on the steps of a building with a hat by his feet. He held up a sign which said :  ' I am blind, please help.'  There were only a few coins in the hat.A man was walking by. He took a few coins from his pocket and dropped them into the hat. He then took the sign, turned it around, and wrote some words. He put the sign back so that everyone who walked by would see the new words.Soon the hat began to fill up. A lot more people were giving money to the blind boy. That afternoon the man who had changed the sign came to see how things were. The boy recognized his footsteps and asked, "Were you the one who changed my sign this morning? What did you write? "
The man said, " I only wrote the truth. I said what you said but in a different way."
I wrote : ' Today is a beautiful day but I cannot see it.'Both signs told people that the boy was blind. But the first sign simply said the boy was blind. The second sign told people that they were so lucky that they were not blind. Should we be surprised that the second sign was more effective? Be thankful for what you have.  Be Creative.  Be innovative. Think differently and positively..

(EASY TO MAKE BOOKS WITH  SO MANY MEMORIES!)
Enjoy your day with a heart of gratitude. 🙂
To teach our children the value of gratefulness, we want to be sure to role model grateful behavior:
Children need to see us being grateful for what we have. That might mean not running out to by the latest pocketbook and newest electronic gadget.
Let them see you saying thank you to the postman, the store clerk, and your friends.
Tell them, "I am so grateful to have you in my life." If that is too corny for you, you can say, (when they come home from school), "It is good to see you."
Let them see you and your spouse thank each other. Thank your spouse for making dinner, for taking out the garbage, cleaning a clogged drain or for making the phone call to Aunt Ethel, something you really didn't want to do.
Don't complain about all the things you don't have.
Write a gratitude journal and tell them about it in a non-confrontational, friendly way.
Enjoy the beauty around you and point it out to your children. Sunsets, the sun shining on the snow, laughing babies and blossoming trees.
Understanding child/teen development and their limitations gives us insights into their frustrating but necessary behavior. Being grateful for what we have is one of the secrets of successful living. Fostering gratefulness in ourselves will enhance our family life and give our children the direction they need to cultivate their own happiness.
Choosing Gratitude
"If you look to others for fulfillment
you will never truly be fulfilled.
If your happiness depends on money,
You will never be happy with yourself
Be content with what you have;
Rejoice in the way things are.
When you realize there is nothing lacking,
The whole world belongs to you."
~Lao Tzu
Gratitude is more than an attitude, more than polite manners and positive thinking. It is a way of life and a magnificent legacy to leave our children. So, don't think about how to instill gratitude in children, instead start taking these steps to instill this significant attitude in your family today, for a better tomorrow.
There is no such thing as gratitude unexpressed.  If it is unexpressed, it is plain, old-fashioned ingratitude.  ~Robert Brault
The Fine Print
This policy is valid from 19 February 2010
This blog is a personal blog written and edited by us. For questions about this blog, please contact Dennis and Barbara Harnsberger at ourfamily2yours.com.
This blog abides by word of mouth marketing standards. We believe in honesty of relationship, opinion and identity. The compensation received may influence the advertising content, topics or posts made in this blog. That content, advertising space or post will be clearly identified as paid or sponsored content.
The owner(s) of this blog is compensated to provide opinion on products, services, websites and various other topics. Even though the owner(s) of this blog receives compensation for our posts or advertisements, we always give our honest opinions, findings, beliefs, or experiences on those topics or products. The views and opinions expressed on this blog are purely the bloggers' own. Any product claim, statistic, quote or other representation about a product or service should be verified with the manufacturer, provider or party in question.
This blog does not contain any content which might present a conflict of interest.
To get your own policy, go to http://www.disclosurepolicy.org